The Top 3 Eye Serums Of 2018
Updated 12/31/2018
Here's what you need to know when picking an eye serum that actually works.
Unfortunately, you can't avoid aging, but you can help fend off visible signs of it — specifically, when they start to pop up around your eyes.
Things like fine lines, wrinkles, dark circles, puffiness, crow's feet, and saggy skin can all be minimized when using the right eye care product.
After all, the skin around your eyes is the most delicate of your entire face, so picking the right product is vital.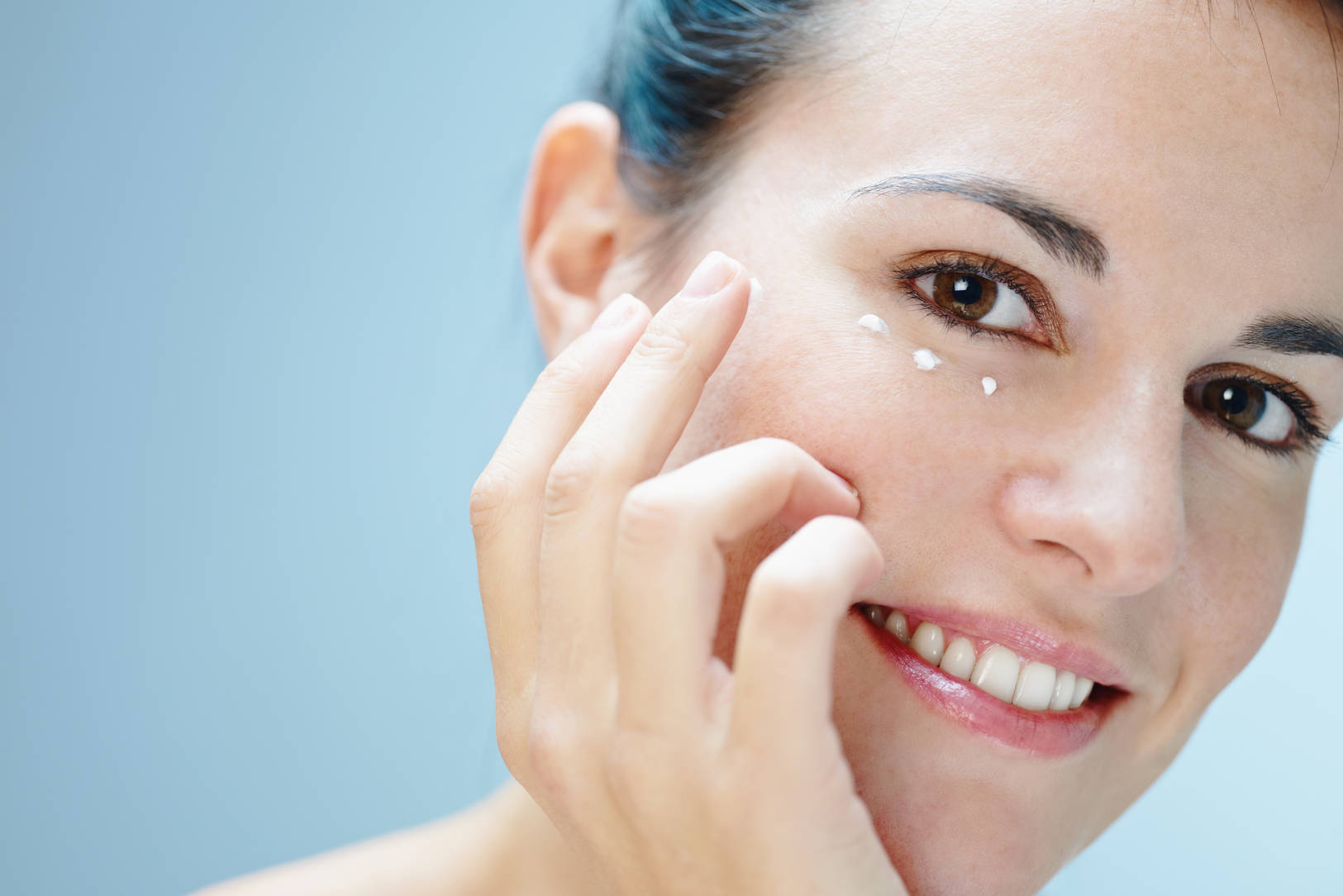 But there are hundreds of eye care products on the market, and many of them do very little to address these issues… so how do you choose the right one?
Eye Cream Vs. Eye Serum: Which One Is Better?
Eye creams, which are known for their moisturizing properties, are slowly becoming a thing of the past thanks to eye serum.
And that's because a good eye care product should also help smooth out fine lines, reduce puffiness, restore a youthful glow, and help rebuild firmness.
As opposed to eye creams, eye serums often also have hyaluronic acid andretinol, which penetrate your skin on a deeper level and help deliver the best results.
So with consistent use, you'll be able to see:
Fewer fine lines and wrinkles 
Less puffiness 
An increase in firmness and elasticity
Reduce dark circles
A renewed youthful glow
In fact, a quality eye serum with concentrated ingredients can be so effective at combating these visible signs of aging that you only need a small drop of it for each application.
But there's hundreds of eye serums on the market, and many of them are full of ineffective ingredients. In some cases, eye serums could even contain harsh additives that can cause dryness, irritation, and even acne.
That's why we've put together this comprehensive guide, so you can make an informed decision before purchasing an eye serum.
The Top 6 Eye Serum Ingredients To Look For
Eyeliss  is made with protein peptides that help reduce swelling and           puffiness, and increase firmness. 
Matrixyl encourages the production of collagen in your body, which           helps improve elasticity in your skin and smooths out fine lines.
Chamomile Extract is a natural ingredient that moisturizes the skin             helps rejuvenate cells. It also can calm some redness or irritation.
Hyaluronic Acid is a super ingredient that increases the production of       collagen and deeply moisturizes, leaving your skin looking more plump      and refreshed.
Vitamin E fights signs of aging and helps protect your skin against             dangerous UV rays.
Retinol is derived from vitamin A, so it can increase production of             collagen in your skin and help smooth out even the most stubborn            wrinkles.
3 Ingredients To Avoid When Choosing An Eye Serum:
Parabens like methylparaben and propylparaben, are questionable cosmetic preservatives. They have often been involved in studies of cancer-causing compounds.
Sulfates are a synthetic ingredient that can irritate your skin, clog pores, and cause acne. They can also strip your skin of important nutrients and oils.
Petroleum is a toxic carcinogen that can block the skin from absorbing moisture and other important vitamins and minerals.
But considering what ingredients an eye serum uses it just the first step, because many skincare brands will use other methods to try to sell you a product that might not be effective…
What Else To Look For When Buying Eye Serum
Money-back guaranteeIt's always a good idea to buy from a brand that's willing to stand by the quality of its product with a full money-back guarantee.
Customer Reviews After researching all the ingredients in an eye serum, we also strongly advise reading what other customers, just like you, have to say about the product. Make sure to check different websites, so you can get a good understanding of what people have to say about the product.
Warning: Do NOT Rely On Amazon Reviews
 This is a trap millions of consumers fall into… relying only on Amazon Reviews. But what most people don't know is that up to 60% of reviews on Amazon were paid for by shady third party companies. 
The Results Are In…
We took all of these factors into account, and after reviewing 89 eye serums, we found the best on the market. 

Top Picks Are Updated Monthly Based On Testing And Analyses:
---
Top Pick
Consumers Survey Recommended
Formulated with clinically tested ingredients
Free from parabens, petroleum, harsh sulfates, fragrances, and mineral oil
Lightweight, yet powerful formula
30-day money-
back guarantee
Call Simple Beauty Toll-Free:
(888) 512-3250



The Fine Line Eye Serum by Simple Beauty is made with a powerful formula that deeply hydrates, smooths out fine lines, lessens the appearance of dark circles, and helps restore a youthful glow.
It's formulated with Eyeliss, Matrixyl, aloe vera juice, chamomile flower extract, sodium hyaluronate, and green tea leaf extract that work together to improve elasticity and help encourage collagen production.
Plus, the Fine Line Eye Serum is backed by Simple Beauty's 30-day, no questions asked money back guarantee.
And after carefully combing through the overwhelmingly positive reviews, the Fine Line Eye Serum by Simple Beauty was the clear choice for our #1 spot.
* * * EXCLUSIVE Special Offer For First-Time Users ONLY * * *
LIMITED OFFER DISCOUNT FROM SIMPLE BEAUTY
---
Intensive Eye Concentrate for Wrinkles by StriVectin is made with patented NIA-114™ technology that  brightens the area around your eye, helps reduce puffiness, and helps smooth out fine lines.
It's lightweight and moisturizing, so it's suitable to for twice daily wear.
But this eye serum is made with some fragrance and alcohol, which can cause skin irritability.
---
Ferulic Plus Retinol Triple Correction Eye Serum by Dr. Dennis Gross comes in at the bottom of the list. Formulated with retinol and willow bark as two of its star ingredients, this serum targets wrinkles, puffiness, and dark circles.
It's also lightweight, making it ideal for both day and night use.
But this eye serum has received mixed reviews, with some customers saying they didn't see the results they were hoping for. And a few other reviewers said that this product dried out their skin
---
What We Do
ConsumersSurvey uses a unique three-step approach to reviewing the most popular products in the online marketplace
1. RESEARCHFirst we conduct in-house research with a highly qualified editorial team comprised of individuals who specialize in various fields.

2. SURVEYWe survey our readers who have tried the product over time in order to learn from their experiences.

3. OPINIONWe monitor public opinion in the world's most popular marketplaces, from Amazon and eBay, to Bizrate and Pricegrabber.
x485 people are reading this review on Consumers Survey right now.